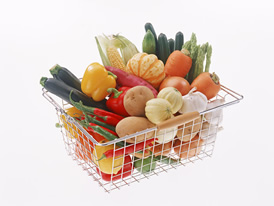 Kamifukuoka Bussan produces and sells cut vegetables primarily for the following.
Prepared foods corners at supermarkets
Convenience store lunch boxes
Hospital meals and company meal services
Beginning with processing and sales of cut vegetables to meet the prepared foods needs of major supermarkets in the 1960s, we have continued to meet a broad range of needs and have accumulated extensive expertise related to the provision of safe and dependable cut vegetables. Now, we are engaged in wholesale business of kit products combining meat or fish with seasonings or other ingredients according to the dish that will be prepared for supermarkets and convenience stores.

We produce and sell approximately 150 SKU of kit products each day in order to meet customer needs for fried, saute´ed, stewed, baked, and all other kinds of foods.
Our strength is in making best use of vegetable characteristics and providing processing to meet customer needs!
We can provide all kinds of processing to meet food preparation needs, including varying the cutting style, thickness, length, and size, as well as edge rounding and carving by a millimeter.
We can make best use of the vegetable characteristics for each individual ingredient, and meet fine-tuned requests such as varying the cutting style and thickness to make the vegetables easier for the customer to cook.
We will propose the cut that makes best use of the vegetable characteristics. For example with onions, we can cut along the fibers for use in marinades, or cut to preserve firmness for use in prepared foods.
Our company's cut vegetable process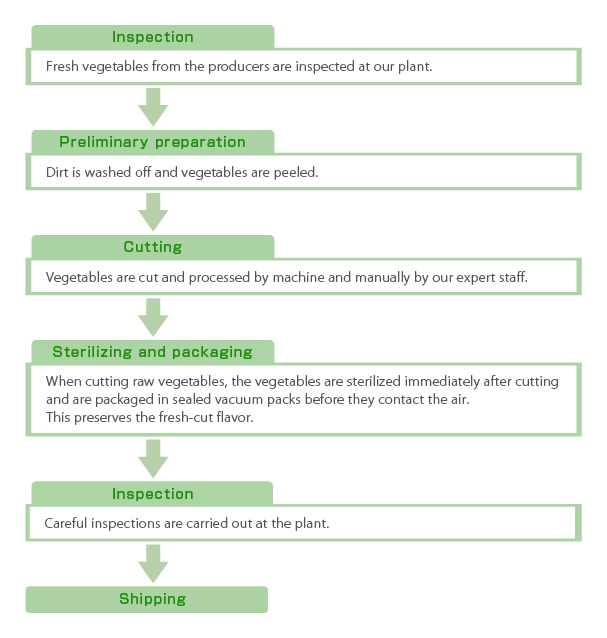 So that we can provide safe and dependable cut vegetables, our company performs complete hygiene management and quality management.

This system is based on the dual foundations of sampling tests performed by our company and sampling tests performed by an outside organization in order to ensure safe and dependable cut vegetables. Four times a day, we also carry out complete control of sterilized water temperature and humidity control.

We have created a manual for the sterilization process methods to use for vegetables that will be eaten raw, selected according to the characteristics of the ingredients.
We are working to provide safer and more dependable products that are better for the human body.

We handle vegetables from a variety of producers, including domestic producers, organic vegetables, and China producers, according to customer requests. We carry out complete sorting management and classify production lines by SKU so that ingredients from different categories of producer never become mixed.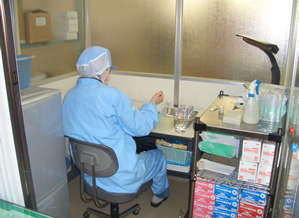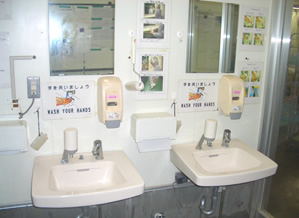 More than 100 expert staff work diligently at vegetable processing every day.

Our plant also includes a full range of equipment for various kinds of vegetables, as shown in the table below, and we are capable of large-lot processing.
| | |
| --- | --- |
| Slicer | 5 |
| Shredder | 3 |
| Dicer | 2 |
| Shaver | 1 |
| Pumpkin slicer | 2 |
| Burdock root washer | 1 |
| Burdock root peeler | 1 |
| Carrot peeler | 2 |
| Cucumber washer | 1 |
| | |
| --- | --- |
| Daikon radish garnish strip slicer | 2 |
| Long onion garnish strip slicer | 1 |
| Dehydrator | 5 |
| Vegetable sterilizer | 1 |
| Vegetable washer | 2 |
| Sterilizer boiling tank | 2 |
| Vacuum packaging machine | 4 |
| Metal detector | 4 |
Kamifukuoka Bussan environmental programs
In 2006, we invested approximately 50 million yen to introduce a wastewater treatment system.
This system cleans the large volume of dirty water that is produced when washing vegetables, such as when washing potatoes or burdock root to remove scum, improving the surrounding environment.

In order to save energy and preserve the global environment, we are planning to gradually change the lights at the company to LEDs beginning from 2012.
Production lines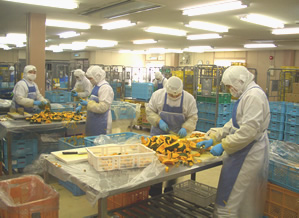 Pumpkin line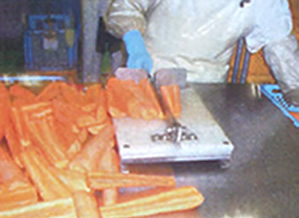 Carrot line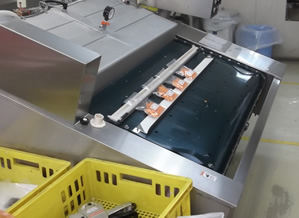 Vacuum packing line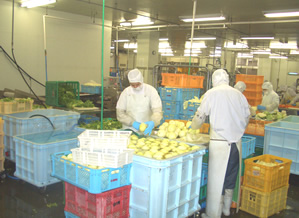 Onion line